It is now possible to upload custom projections into Player Models! To get started, click on the 'Upload Custom Projections' button above the model grid:

This will load the 'Custom Projections' popup window: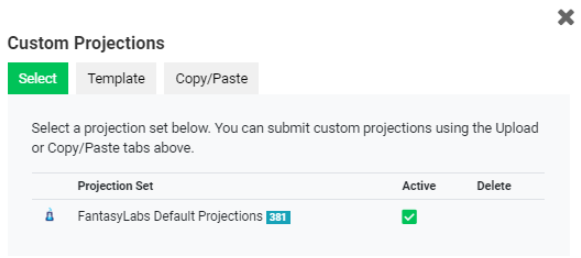 There are two methods you may use to upload a projection set: Template or Copy/Paste.
Template: Download FantasyLabs' template of player names and IDs. Adjust the projection values on the .CSV file and upload the file back to the site.

Copy/Paste: Paste a projection set directly into the tool.
Workflows
Template
Click on 'Template' along the top navigation bar.
Click on Download Template

Open the file you just downloaded and make any edits directly on the sheet:

Save the file

Back on the Custom Projections page, click on Choose File and upload the .CSV
You will see this message following a successful upload:
Copy+Paste
Click on 'Copy/Paste' along the top navigation bar.

In the drop-down menu, specify whether you will be loading projections for DraftKings only, FanDuel only, or both DraftKings and FanDuel simultaneously.

Make sure columns are labeled as 'DK Points' for DraftKings and 'FD Points' for FanDuel.

Paste your projection set into the text box.

Following a successful upload, you will see a 'Success' message in the main text box:

Below the main text box, the tool will alert you of any player records we were unable to match:

To resolve, select the correct player record using the 'Potential Matches' drop-down menu. You may also choose to 'Ignore', which will skip this player record.

If you are unable to locate a match for the player via the drop-down menu, locate the player you are looking for in Player Models. Update the player's name on the source file to match the convention used in Player Models and re-upload.

Once all naming issues have been resolved, click on 'Upload All Matched Players' at the bottom of the page.
Following a successful upload, the projection set will be available on the 'Select' tab:

Here, you can specify which projection set should be used in Player Models via the checkbox in the 'Active' column. To remove a projection set, click 'Delete'.
After closing the Upload Custom Projection tool, you'll find that the projections have been updated in Player Models, as indicated by the 'X' next to each projection record: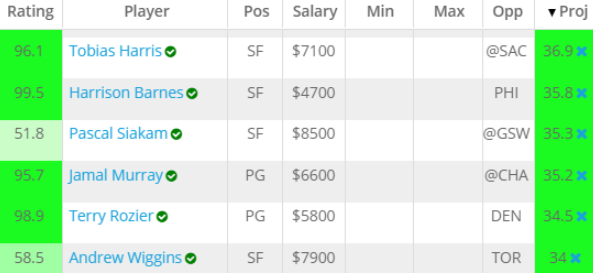 Note: The custom projection upload will only affect the 'Proj' field at this time. Ceiling and Floor will not be adjusted.